Aqua Work of the Day: Michael Sanzone "Distillery Building Blocks"
02/11/2014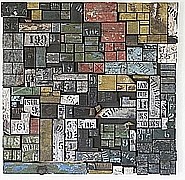 Michael Sanzone (New Haven, CT 1977)
Whisky cask
48 x 48 inches (122 x 122 cm)
Courtesy Kathryn Miriam Contemporary, Greenwich CT
The works included in Sanzone's 'Distillery Series' began during his time spent as an Artist in Residence at the Glenfiddich Distillery. Inspired by the journey of wood used to make the casks, some over fifty years old, Sanzone became increasingly fascinated by the subsistence of each piece. The barrels were built from Spanish or American oak, transported to Scotland, and then filled, used, thrown away, found and finally resurrected. The works in this this series not only convey the narrative of this journey, but also act as Sanzone's memento of a time and place. The distinct colors and shapes of each piece, united with the damp scent of whisky soaked wood, lends to a sensory experience that is the Scottish Landscape from the artist's viewpoint.
Artist Biography: Michael Sanzone was born in 1977 and grew up just steps outside the Stony Creek Quarry in Branford, Connecticut. In this rural and blue-collar New England community, Sanzone spent his childhood working in his family's Millwork business. After graduating from the School of Visual Arts in NYC, Sanzone combined his fine art training with his knowledge of woodworking, the result of which can be seen in his sculptural paintings that the artist refers to as 'Wood Constructions.' He often creates unique wood frames or handcrafted boxes to hold artwork, enabling pieces to spin and encouraging the viewer to interact. Works in his 'Distillery Series,' created from whisky casks salvaged from the Glenfiddich Distillery in Scotland, are some of his most popular works, and began during his time as an Artist in Residence at the distillery located in the Scottish Highlands.
Michael's work is in public collections including a recent acquisition by Rubicon Technology Partners and previous installations include the Truffles Building, Tribeca, and large-scale commissions at the NYC and Scotland headquarters of William Grant & Sons, Ltd. makers of such top spirits as Glenfiddich and Hendrick's. Private collectors include Grant Gordon and Lloyd Gordon, owners of William Grant & Sons, Ltd.; Dante Di Loreto, Executive Producer of the television show Glee; Bryan Rafanelli of Rafanelli Events; and Heather Greene, leading whiskey expert and author of Whiskey Distilled. Sanzone's work is represented by Kathryn Miriam Contemporary and on view at Cafiero Select, NYC and Art & Soul Gallery, Boulder, CO.