A "Friendlier, Kinder" Kinda Art Fair -- More Kudos About Aqua's 10th!
10/12/2014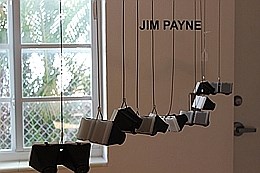 Aqua's 10th Anniversary Edition generated all kinds of accolades, among the most recent came from Hyperallergic (Kate Sierzputowski's "A Casual Approach"), OregonLive (Janet Eastman's citing the Pacific Northwest) and Artnet (Sarah Cascone's "A Friendlier Kinder Take on the Art Fair").
Meriting mention among the trio of pleased features was a veritable catalog of Aqua exhibitors, including Elizabeth Leach Gallery, Shulamit Gallery, Industry Gallery, ArtSlant, Coagula Curatorial, Whitespace Gallety, Good Luck Gallery, Toomey Tourell, Mayer Fine Art, Space 776, Elisa Contemporary Aty, Antonio Colombo, Victori Contemporary, Autobody Fine Art and Morton Fine Art.
In other words, Aqua got a three-pack of coverage that was compoundingly complimentary. Thanks everyone!
(Pictured Jim Payne courtesy Coagula Curatorial)